Before the advent of Domestika, gaining a foothold in creative industries entailed costly and laborious education from traditional institutions. Fortunately, Domestika provides an accessible alternative, offering budget–friendly courses taught by experienced professionals in their respective disciplines.
In this article, we'll take a closer look at the platform and its features to explore how it can help you improve your skills.
We'll also share our honest thoughts and feedback based on our experiences with the platform. So whether you're a beginner or a seasoned professional, read our Domestika review 2023 to determine if is the right choice for you.
Table of Contents
---
What is Domestika?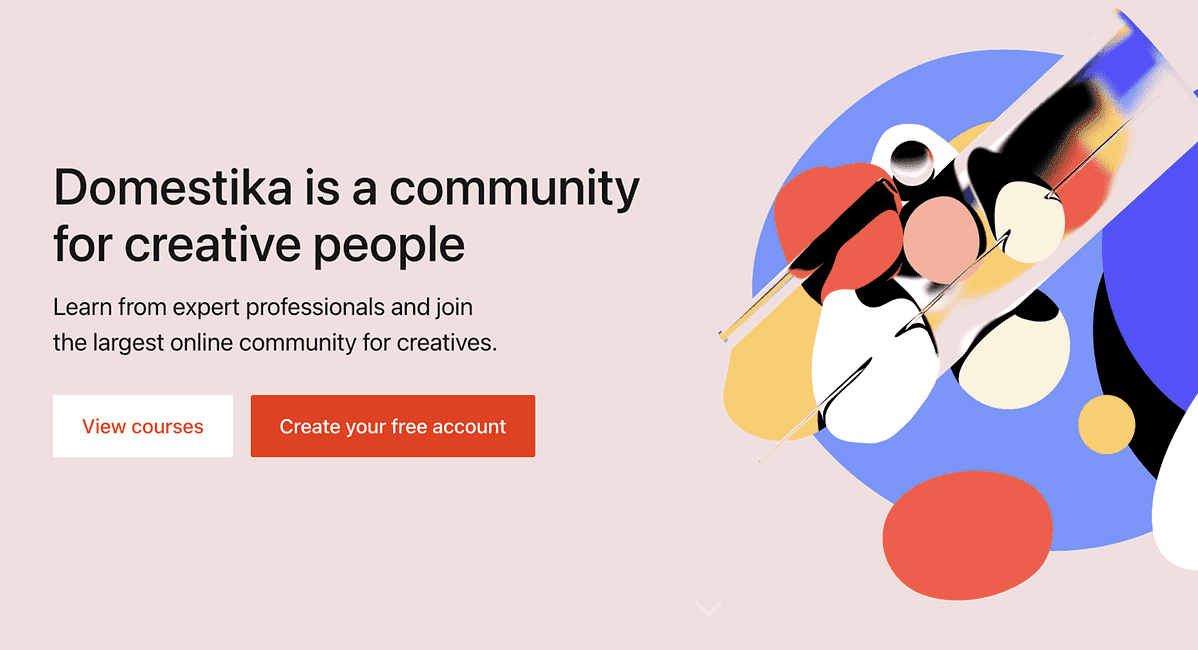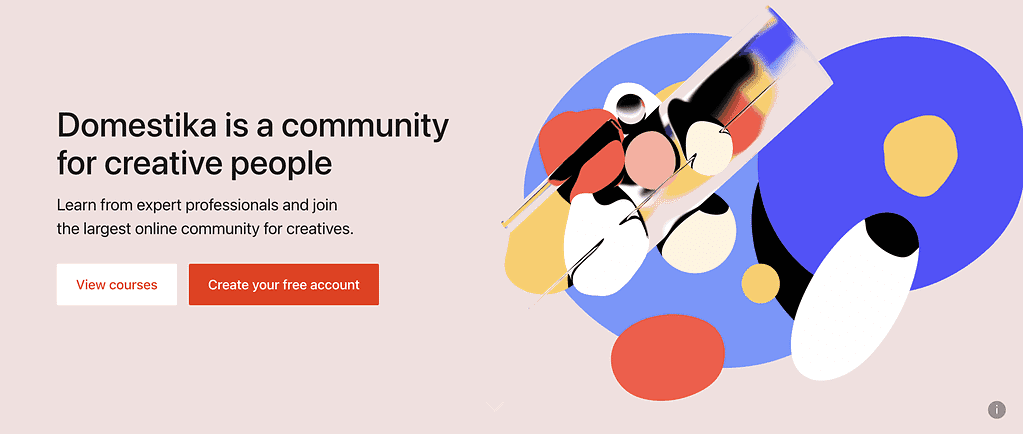 Domestika is a revolutionary learning platform that provides access to high–quality education and training in creative fields such as design, illustration, photography, animation, and beyond.
Domestika is an online learning designed to bridge the skill gaps in the job market.
It offers relevant courses in demand within the industry, focusing on practical skills, so individuals can gain and apply new knowledge immediately. In short, a course on Domestika gives users all they need to succeed in their chosen field.
Its mission is to provide access to high–quality education and training opportunities for creative professionals, while helping them develop essential skills sought after by employers. If you want to learn a few creative skills, think Domestika
Who Created Domestika?
Domestika was founded in 2010 by Spanish entrepreneurs Alberto Sanz and Jordi Miró;
Domestika was created to build an online community uniting creative professionals from around the globe. Since then, it has grown rapidly with a team of over 250 employees based in offices in Madrid, San Francisco, and São Paulo.
The platform now offers many courses covering design, illustration, photography, and animation – providing creatives with many learning opportunities.
As one of the leading online learning platforms in the creative industry today, Domestika has seen millions of students worldwide take courses and participate in its community.
Top benefits of Domestika?
This platform offers a cost–effective, high–caliber way for users to explore their creative endeavors and develop new skills.
With experienced professionals teaching each course and focusing on a practical, project–based learning, Domestika offers numerous benefits to students – from honing existing skills to discovering new ones.
The top benefits are:
High-quality courses taught by experienced professionals
The courses are created and taught by experienced professionals in their respective fields. This ensures that students receive a high-quality education that is relevant and up-to-date with the latest trends and techniques. There are many open courses available on different topics.
Affordable pricing
Domestika classes are affordable, making them accessible to a wide range of people who may not have had the opportunity to pursue traditional education in these fields.
Accessible community and networking opportunities
Domestika provides an online community where students can connect with other creative professionals and share their work. This can lead to valuable networking opportunities and collaborations in the future.
Project-based learning
Domestika stands out from other online learning platforms' unique features, providing creative professionals and enthusiasts a comprehensive and interactive experience.
---
Best Features of Domestika
Domestika courses are created around practical projects that allow students to apply the skills they have learned in a real-world context. This approach provides students with valuable hands-on experience in the job market.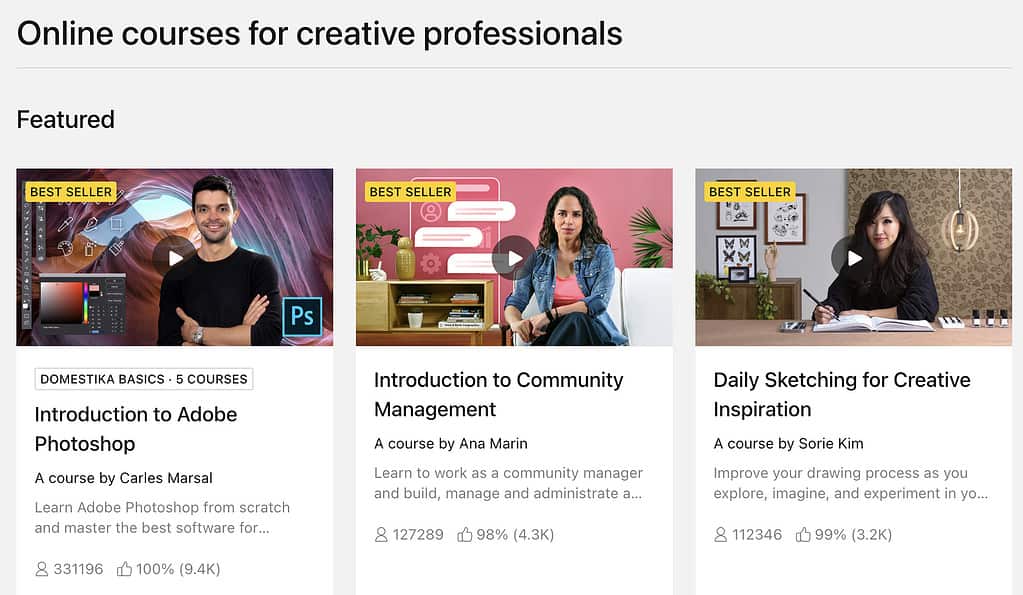 With over 1,000 available courses taught by industry experts in graphic design, animation, cooking, and music – Domestika has something to satisfy every interest.
Diverse and new courses offerings
Domestika provides a comprehensive selection of courses that span many creative disciplines.
You can find courses on special categories such as:
Graphic design, typography, branding, user interface design, and other design-related topics.
Different photography areas include portrait, travel, product, and fashion photography.
Domestika's illustration courses cover various styles, techniques, and mediums, such as watercolor, digital illustration, and character design. The list of courses is vast.
Different types of animation, including 2D, 3D, and stop-motion animation.
Craft courses include pottery, weaving, embroidery, and other traditional crafts.
Domestika provides cooking, baking, and pastry-making courses taught by professional chefs.
Classes in music production, sound design, and composition.
The variety of courses and classes make Domestika worth the time.
Video Lessons
Domestica's top-rated courses feature pre–recorded video lessons, allowing students to learn at their own speed and convenience.
Project-based learning
Domestika puts a lot of effort into offering a unique approach to learning – they are designed with practical projects in mind so that students can apply their newly acquired skills in an authentic setting.
Certificate of completion
Upon completing their courses, students receive Domestika certificates to showcase their achievements in their professional portfolios. There are certificates for all the courses on the website.
Feedback and critiques
The platform allows students to gain feedback and critiques from their instructors or peers. There is a very active Domestika community.
Mobile app
Domestika provides an intuitive mobile app that enables students to access their courses on the go. In addition, students can download courses for offline learning.
Lifetime access to courses
Once students sign up for a Domestika course, they can access the materials indefinitely and keep honing their skills even after completion.
Multilingual courses
Domestika's multilingual offering opens the platform to a broader audience and enables learners to study in their mother tongue. Domestika is one of the few platforms with courses in the creative fields in many languages. Domestika courses are in Spanish, English, French, and other languages.
Free Courses
Domestika offers a range of courses, many requiring payments. However, courses are accessible for those looking to explore without committing to a paid course – usually Domestika basics introductory or condensed versions of their paid counterparts.
These free courses are an excellent way for learners to get a taste of what Domestika offers and explore a new creative field. Those ready to move to the next level can upgrade to Domestika plus.
Subscriptions
At Domestika, they offer more than just individual courses – there's also the Pro subscription service. With Domestika Pro, you'll get access to over 600 classes with discounts on new ones, exclusive content, and priority support!
The subscription fee is billed monthly or annually. Users can cancel anytime; it's designed for learners committed to ongoing education and wanting to access courses at a lower cost.
---
Domestika Pros and Cons
Gain clarity on whether Domestika is the right learning platform for you by understanding a product or service's potential benefits and drawbacks.
You can determine whether the benefits outweigh the costs by weighing up its advantages and disadvantages.
| | |
| --- | --- |
| Pros | Cons |
| Wide variety of course offerings | No live classes |
| Courses taught by industry professionals | Limited number of free courses |
| Project-based learning approach | Limited interaction with instructors |
| Feedback and critiques provided | |
| Certificate of completion | |
| Lifetime access to course materials | |
Domestika Pros
The wide variety of course offerings makes it easy for learners to find a course that interests them.
Domestika's courses are professionally produced and taught by professionals with real-world experience in their respective fields, providing learners with valuable insights and knowledge.
Since Domestika is structured around practical projects, it allows learners to apply their skills in a real-world context and develop a portfolio of work.
Many Domestika courses offer opportunities for learners to receive feedback and critiques on their work, helping them to improve and refine their skills.
Students who complete a Domestika course receive a certificate of completion, which can be added to their professional portfolio and demonstrate their skills to potential employers.
Learners who enroll in a Domestika course have lifetime access to the course materials, allowing them to revisit the lessons and continue learning even after the course is complete.
Domestica Cons
While Domestika offers some free courses, most require payment, making them less accessible for learners who cannot afford to pay. However, they offer classes at a discounted price.
Lessons are only pre-recorded, meaning learners have limited opportunities to interact with their instructor or ask questions.
Domestika does not offer live classes, which can make it difficult for learners who prefer a more structured learning environment.
---
Domestika Pricing
Domestika also offers subscription plans for those who wish to access multiple courses at a lower cost.
These include:
Monthly subscription plan: This plan costs $19.90 monthly and provides monthly access to all classes.
Yearly subscription plan: This plan costs $9.90 per month and allows access to all courses for a year.


In addition, users can have access to Domestica Plus. It is a subscription-based service that provides exclusive benefits and features for its members.
---
Domestika Alternatives
Online learning platforms such as Udemy, Coursera, and Skillshare offer comparable courses to those on Domestika since they also offer classes in creative topics.
If you like Domestika, you will be interested in the following platforms too:
Skillshare
Skillshare is an online learning platform that offers several courses in creative topics, including creative skills like design, photography, and animation. This is one of the largest online platforms, definitively worth checking.
Linkedin Learning
Linkedin Learning is an online learning platform that offers classes on various topics, including creative skills like graphic design, video editing, and illustration. In addition, Linkedin Learning courses are self-paced, meaning students can complete them independently.
---
Domestika Case Study and My Personal Experience
People have achieved great outcomes by taking Domestika courses, as evidenced by numerous case studies and personal accounts.
Here are a few examples:
Carolina Melis is a designer and animator who has taken several Domestika courses. In a testimonial video, she praises the platform for its high-quality courses and the opportunity to learn from top instructors. She also notes that the classes have helped her to improve her design skills and land new clients.
Mirko Credito is a graphic designer who took the Domestika course "Designing a Book: From Concept to Print" with graphic designer Adolfo Serra. In a blog post, he credits the course with helping him develop a deeper understanding of book design and layout and providing him with practical skills to apply to his work.
From personal experiences to case studies, the internet is overflowing with evidence of the profound effect Domestika courses can have on one's professional and creative pursuits.
My Experience Using Domestika
Intrigued by web design, I discovered Domestika. So I enrolled in the course 'Web Design: Creating Attractive and Functional Websites' with instructor Diego de la Vega.
Over the next few weeks, I created a Domestika account. I immersed myself in the material, learning everything from color theory to user experience design. Domestika is definitely easy to use and access.
As I worked through the course, I began applying my newfound knowledge to my website, experimenting with different color palettes and layouts, and incorporating new design elements and features to make it more attractive and user–friendly.
Thanks to Domestika, I developed my web design skills, creating a website that showcased them in all their glory. Feeling confident and empowered by this accomplishment, I knew it had equipped me with the skills necessary to take her web design career to the next level. Domestika is worth the time and effort.
---
Should You Buy Domestika?
To sum up, Domestika is an excellent platform for those intrigued by design, photography, and illustration, with an extensive catalog of courses.
Not only does Domestika emphasize practical skills and hands–on learning, but it also offers project–based assignments, so users can apply what they've learned in real–world contexts – especially valuable for those looking to build a portfolio or land new clients.
While the platform has some downsides, such as the high cost of some courses and the lack of a structured learning path, overall, it is an exceptional investment for anyone serious about developing their creative skills.
With its comprehensive course offerings, practical focus, and top–notch instructors, Domestika is definitely worth checking. It can help you achieve your creative goals and reach new heights in your career.
So if you want to take your creativity to the next level, consider signing up today!