2023 is the gateway to higher possibilities of the future through technological advancements. There is a feeling that you need to upgrade your tech skills, but you have no time for regular courses. Feeling distressed? I have a solution for you, and that is Pluralsight. Here, I'll do a comprehensive Pluralsight review for you.
Pluralsight is an online course platform for learning tech skills. It offers 7000+ tech courses from top instructors of top universities. In addition, there are two exclusive features- Skill IQ and Role IQ to assess yourself and join your suitable courses.
This platform helps you to upskill your tech knowledge and offers valuable completion certificates for leading jobs. In this Pluralsight review, I'll show the best way to pull yourself through some brilliant courses on this platform.
Table of Contents
---
What is Pluralsight?
Pluralsight is an e-learning or online platform for learning. This platform is designed exclusively for technology-related courses. This online course platform offers more than 7000 courses, mostly focused on tech skills. You can have the guidance and expertise of more than 1500 top-level instructors across the world.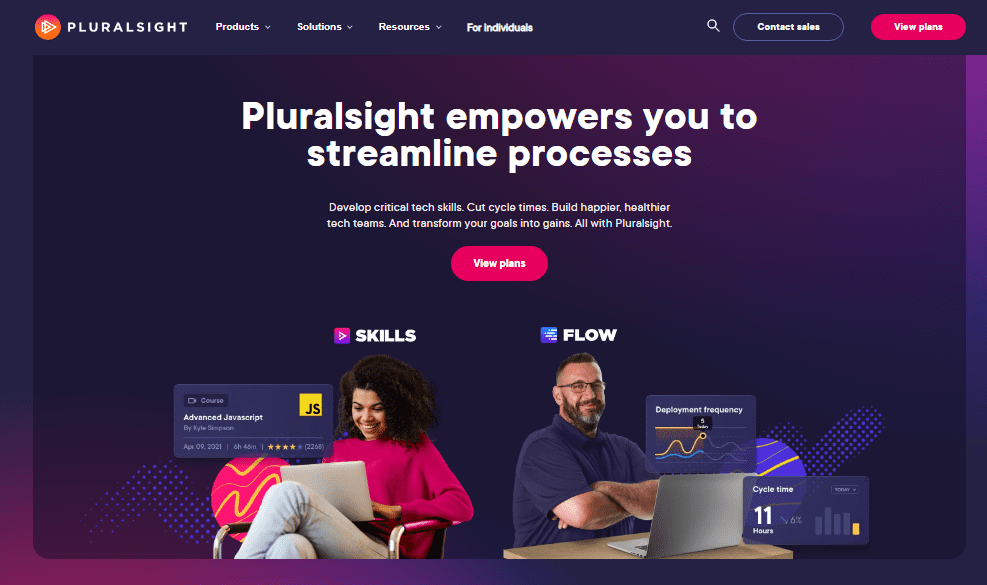 What you can get from Pluralsight? You have one of the best options to upskill your tech knowledge to the next level. This e-learning platform has a very cool feature of self-assessment. This brilliant feature helps you to choose the best suitable course for you hassle-free.
From its inception, over the years, Pluralsight has done a collaboration with many leading tech companies like Microsoft, Google, Adobe, Nasdaq, BT, Cigna, and many others tech companies.
Now, if I sum up the overview of Pluralsight, I can say that it is an all-in-one online course platform for learning and leveling up various skills from the technology segment.
Who Created Pluralsight?
Aaron Skonnard is the founder of Pluralsight. He created this online learning platform in 2004 with Fritz Onion, Keith Brown, and Bill Williams as co-founders. They have established this platform as an education startup for classroom training.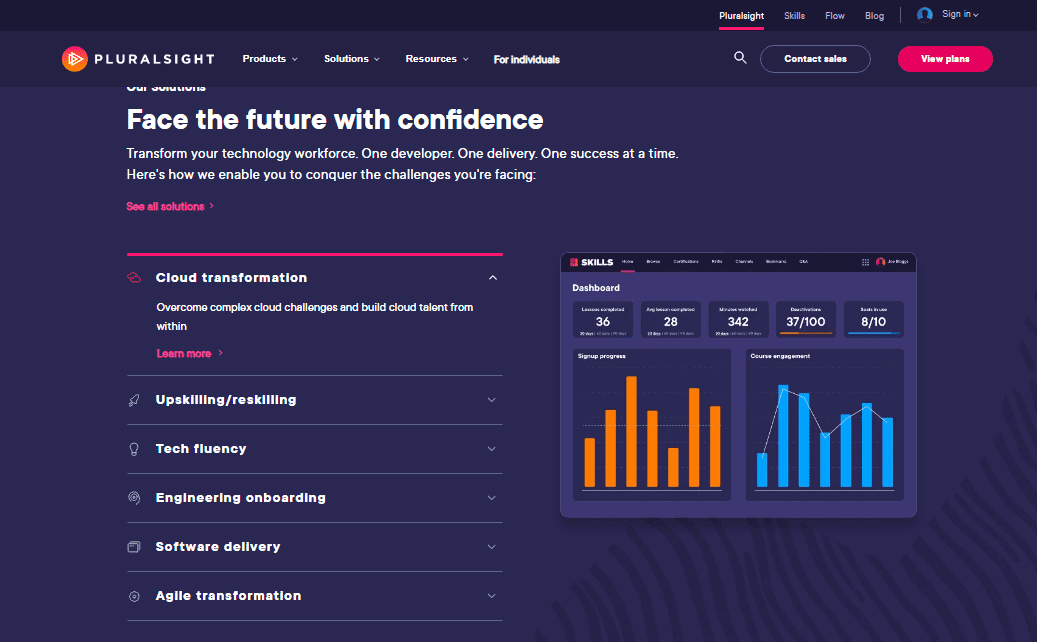 In the initial stage, they used to provide educators with several tech meet-ups. In 2007, Pluralsight became an online learning platform by adding several tech courses with effective and detailed virtual training.
Top benefits of Pluralsight
One Subscription, Unlimited Access:
Pluralsight offers an exclusive feature of one subscription to unlimited access to courses available on the platform. You can get the subscription done, and complete as much as you want. There is no need to pay different course fees each time. This feature also includes premium courses on the platform.
Wide Range of Tech Courses
As I have already said while doing this Pluralsight review, there are 7000+ courses available on this platform. These courses include machine learning, IT, data security, software development, and many other trending skills. You can always learn in-demand skills if you enroll in these courses.
Effective Course Paths for Beginner to Advanced: Course for All
Pluralsight has well-defined and effective course paths for beginner to advanced-level learners. These paths include skills like Azure, Python, Data Analytics, etc, and each path includes paths for the beginner, the intermediate, and the advanced learners.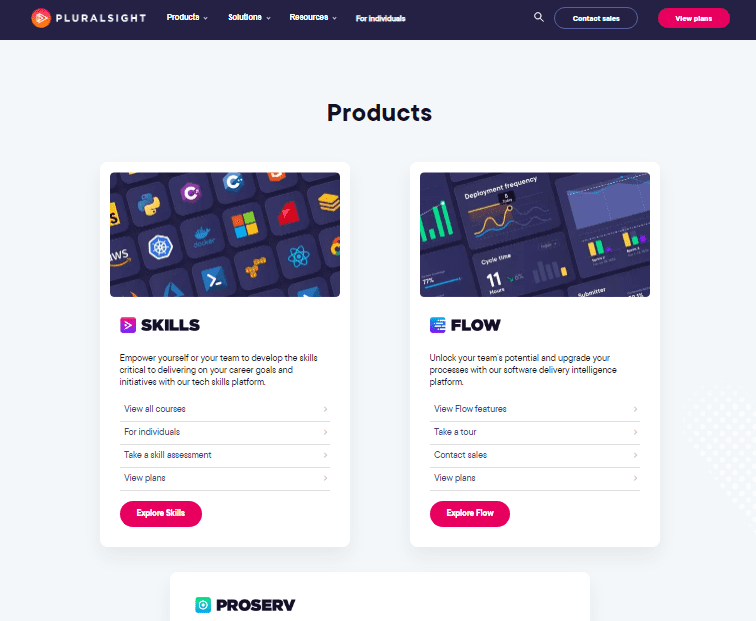 You are free to choose any course with a periodic subscription. However, following these paths will help you to get into the flow of effective learning skills.
The expertise of Established Instructors
Pluralsight is very cautious and selective while choosing its instructors. You can have the expertise of established instructors only who are also amazing teachers.
Their immense enthusiasm and communication skills will keep you engaged with the courses. You can also subscribe to their courses before checking the credentials of these instructors.
Self-Assessment for Learning Checks
There are exercise files included in many courses. Instructors attach these files in the form of pdf files, source code, notes from their training, and many other useful materials. You have to complete these resources to complete the courses.
You will also get self-assessment tools for learning checks. These are in-built in nature and come in the form of games, quizzes, etc. These resources help to get the full excellence of the courses.
When you complete a course in Pluralsight, you will get a completion certificate in pdf form. These certificates help to advance in your career. Examination bodies like PMI and CompTIA acknowledge these certificates for career growth.
Pluralsight Exclusive Guidance
Mentors and instructors in Pluralsight will offer you direct support as valuable guidance. Leading professionals, course authors, or instructors from top universities will come to guide you through live sessions.
This e-learning platform also has two exclusive features Skill IQ and Role IQ. These two features are nearly the same, but, Skill IQ helps to find courses on the amount of understanding you have in a topic.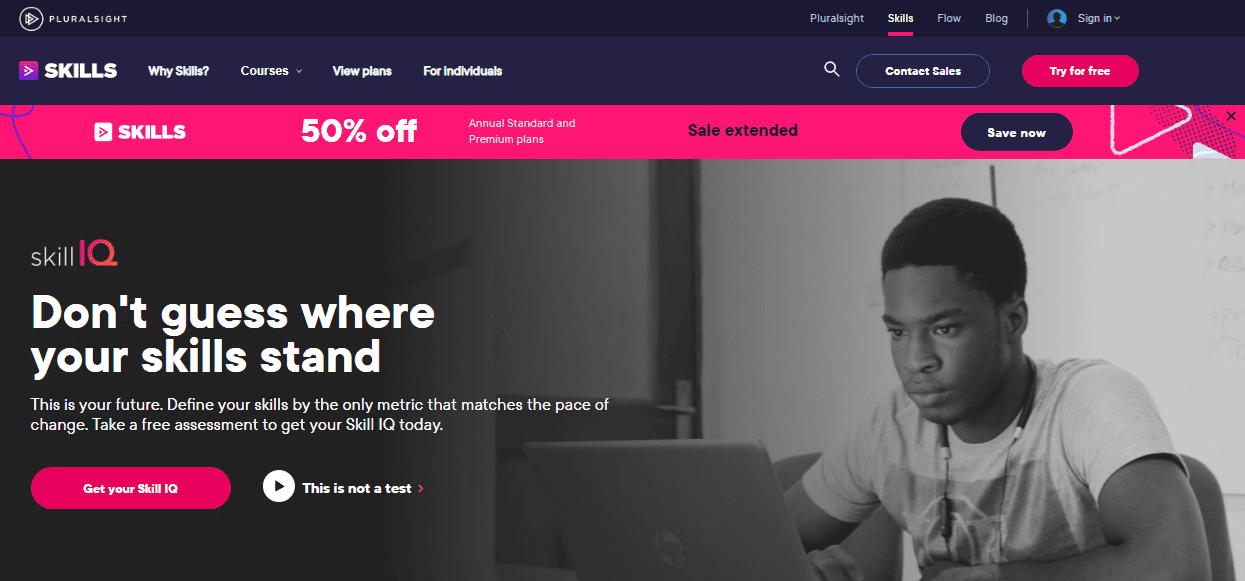 It means Pluralsight will curate the courses according to your demand for skills. However, the Role IQ will guide you to the courses based on your knowledge. It means a beginner will never get into an advanced-level course.
The boards of discussion are parts of the wide learners' community of Pluralsight. You can get your queries resolved here by engaging with fellow learners.
Low-Cost Subscription Fee with a Free Trial
While doing the Pluralsight review, I must say that this platform offers a low-cost subscription fee for both individuals and teams. It is different in each region. You can also enjoy a 10-day free trial period to get an overview of the courses.
Platform compatibility with Smooth HQ Video Playing Experience
Pluralsight courses can be accessed through a laptop or mobile phone as they are compatible with all formats. You will also get a smooth experience while playing high-quality videos of the courses.
---
Best Features of Pluralsight
You have got the idea of the benefits of Pluralsight until this part of our analysis. Now, let's check the best features of this platform in this Pluralsight review.

Cloud Labs
Cloud Labs was initially a beta feature of Pluralsight, but now it is onboarded for users. These are basically pre-configured cloud stations where you can practice with a dummy workflow after Pluralsight courses. You will get an experience that is hands-on in nature. It will allow you to make mistakes, and learn from them in a fast-paced manner.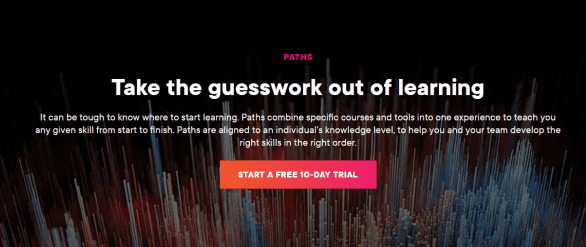 Paths
Learning paths are probably the best feature of Pluralsight. These paths include Role IQ and Skill IQ to smoothen your experience to search for the best suitable courses. Pluralsight curates the best courses for you depending on your knowledge factors and understanding of a topic.

Skill Assessment
This skill assessment feature comprises a simple test of your skills. It will help you to get knowledge of your level, and find a suitable course for you. It is by the way free of cost service.

Flow
Flow is one of the useful features of Pluralsight for teams. It will help you to have visibility in teamwork. You can also get your transparency with projects completed with the help of this feature.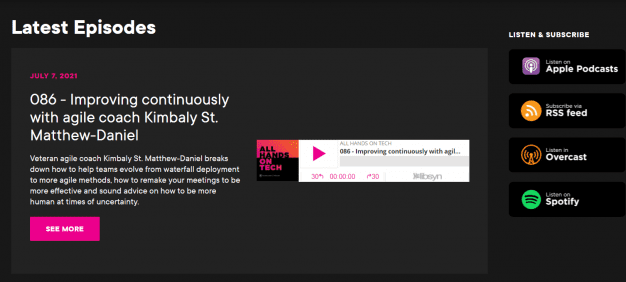 Podcasts
Pluralsight always prefers advanced technology, and the feature of podcasts is proof of that. This feature helps to access effective learning, and you can cover nearly 50% of your subscribed courses. The bonus point is that these podcasts feature expert professionals only.
---
Pluralsight Pros and Cons
Now, a Pluralsight review can never be complete without discussing the pros and cons of the online learning platform. This platform has many eye-catching features and benefits. However, we will provide the pros and cons of Pluralsight for your transparency in ideas about this e-learning platform.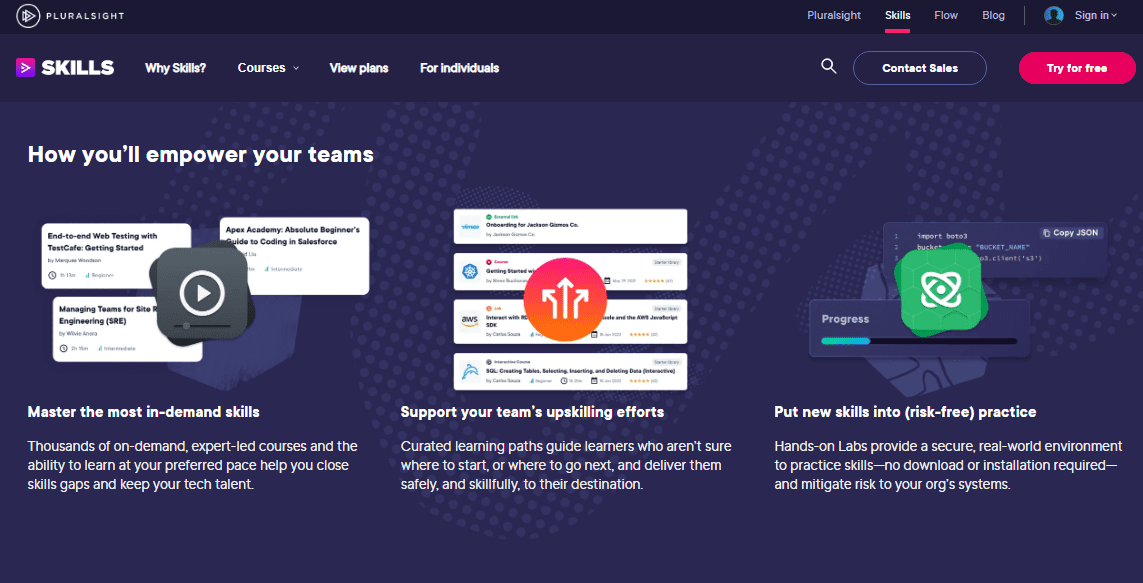 Pluralsight Pros
Free account to access more than 200 free assessments of skills.
Courses for all levels from beginner to advanced.
Exclusive features like Role IQ and Skill IQ for suitable courses.
Podcast feature for trending learning path of better engagement.
Compatible with mobile and laptops with offline downloads.
A free trial is included in every course.
Chat and email support with a ticketing support feature.
Pluralsight Cons
24*7 live support with phone support in premium plans.
Limited in niches because of tech-focused courses.
No free course is available.
Pre-recorded courses with limited live engagement.
No refunds for any subscription.
---
Pluralsight Pricing
In this part of the Pluralsight review, we will discuss the Pluralsight pricing models available. This online learning platform has two segments of courses- the Individuals and the Teams. The Individuals part has two plans- the Standard and the Premium. The Teams part has three plans- the Starter, the Professional, and the Enterprise. This part has one more section- the Flow with two plans- the Core and the Plus.
The pricing of the plans for Individuals ranges from $29 per month to $37.42* per month. The pricing of Teams ranges from $33.25** per month to $64.91** per month.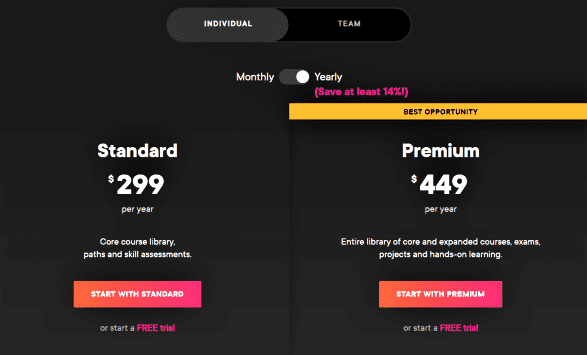 Individuals
| | |
| --- | --- |
| Plans | Pricing (Per Month) |
| Standard | $29 or $25* |
| Premium | $45 or $42* |
*Worked out on yearly subscription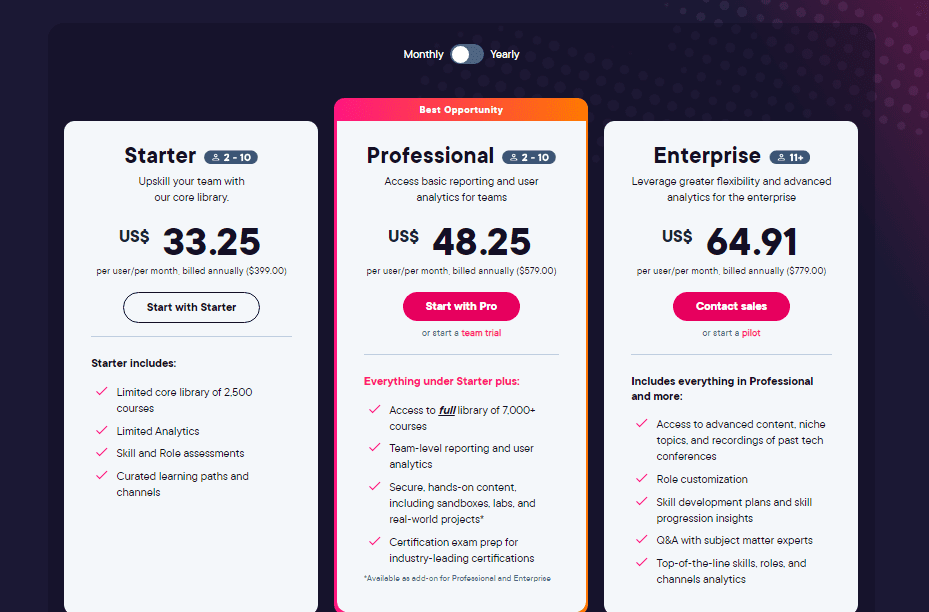 Teams
| | | |
| --- | --- | --- |
| Plans | Pricing (Per month)## | Monthly Subscription |
| Starter | $33.25 | ❎ |
| Professional | $48.25 | ❎ |
| Enterprise | $64.91 | ❎ |
##Worked out on yearly subscription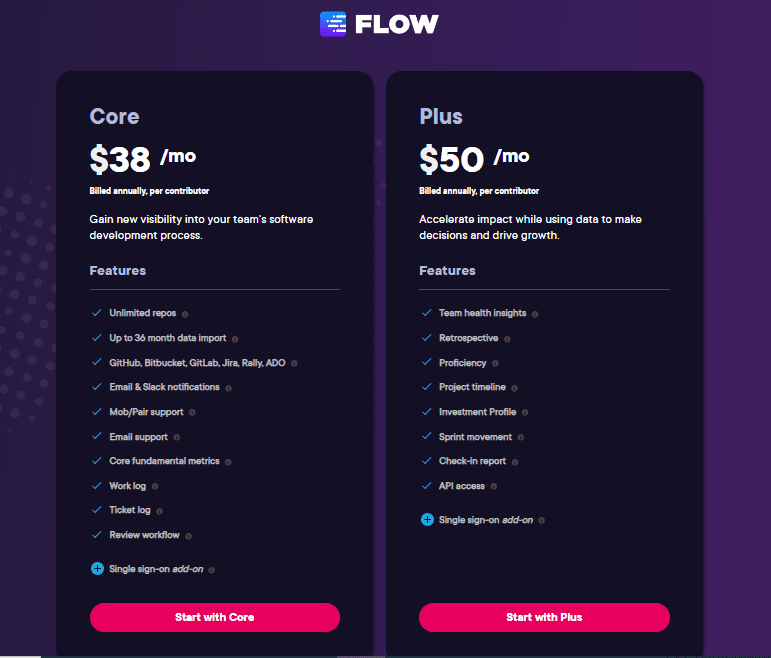 Flow
| | |
| --- | --- |
| Plans | Pricing (Per Month) |
| Core | $38 |
| Plus | $50 |
---
Pluralsight Alternatives
Pluralsight is probably the best for leveling up your tech skills. However, there are Pluralsight alternatives that give tough competition to this platform.
---
Pluralsight Personal Experience
In my personal opinion, Pluralsight is one of the best platforms for e-learning in tech skills. This platform has helped me a lot while I was trying to find a suitable tech-oriented course.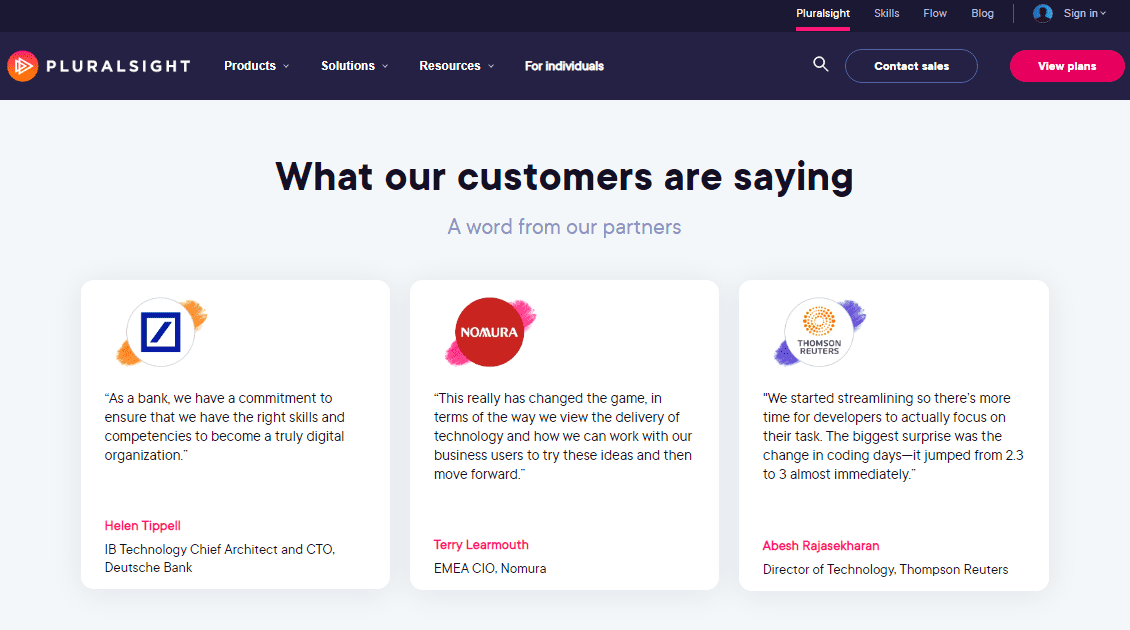 My Experience Using Pluralsight
While I was preparing for jobs, I found out that I just needed to level up my tech skills. So, I joined the Skill IQ option of Pluralsight. After giving the assessments, this platform has shown my interest in data analytics. So, from Pluralsight's guidance, I found a curated course for me as an intermediate. It was really a wonderful experience.
---
Conclusion: Should You Buy Pluralsight?
In the conclusion of this Pluralsight review, I must say that this online learning platform is an all-in-one platform for tech skills. You can find curated courses according to your demand for skills. This platform is very good and useful for beginners. From my point of view, Pluralsight is still worth it in 2023 also.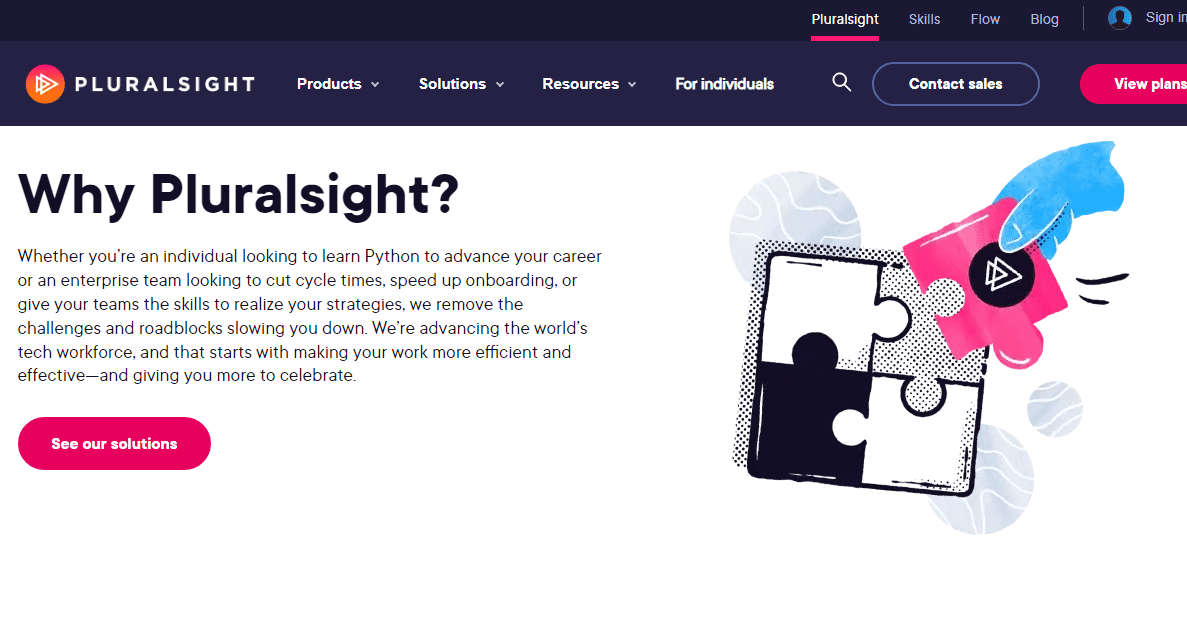 Who is Suitable for Pluralsight?
Pluralsight is suitable for:
People who want to build up their tech skills.
Tech-savvy people who want to get professional expertise.
Pupils who want to carry weightage in their CV.
---
Frequently Asked Questions (FAQs)
Is Udemy better than Pluralsight?
Pluralsight is better than Udemy in the development of software and tech skills. UDemy is known for its wider options for learning various niches.
Is Pluralsight owned by Microsoft?
No, Pluralsight has collaborated with Microsoft for developing software. In April of 2021, Vista Equity Partners acquired stakes in Pluralsight.
Does Google use Pluralsight?
Pluralsight has collaborated with Google Cloud to develop cloud skills that are critical, and unlock multi-cloud and hybrid computing possibilities.